REAL PIANOS REVEAL THE ESSENCE
OF PIANO PLAYING
You want to play for as long as you can.
You want to branch out into new genres.
You want to express yourself in a way that's more… you.
The finest digital pianos that Yamaha makes, Clavinova pianos satisfy the needs and desires of piano lovers around the world.
The amazingly accurate grand piano-like feel is the result of the skills and instincts Yamaha has developed through many years of manufacturing acoustic pianos, paired with cutting-edge technology.
To experience the pure joy of playing the piano, look no further than Clavinova.
For whom?
People who focus on sound quality and elements of feel such as touch and pedal response
People who seek a simple piano
Players of all skill levels
Benefits
The grand piano-like feel gives you total control over the finest points of your performance style.
---
For whom?
People who struggle to read sheet music
People who want to practice by themselves
Beginners, and players who have not played for a long time
Benefits
With descending Stream Lights that show which keys to play next, anyone can master their favorite songs and have fun doing it.
---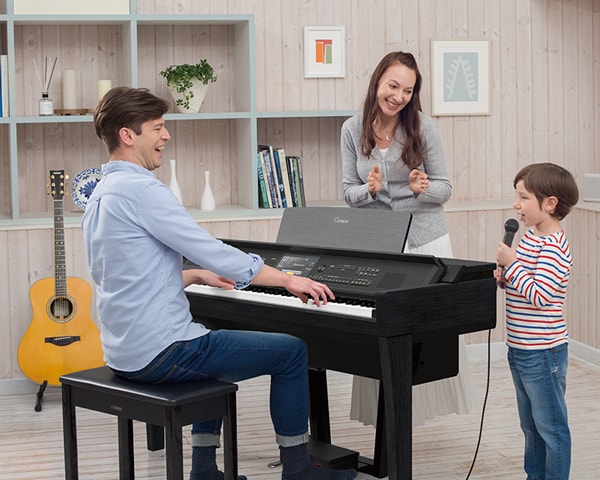 For whom?
People who want to enjoy a variety of musical genres, including jazz and pops
People who want to listen to music and sing along with family and friends
Intermediate to advanced players
Benefits
One instrument is all you need for everything from gorgeous ensemble performances to karaoke.
– With resonance and tone variation similar to a grand piano, the CLP offers allows you to enjoy wide range of expression.
– The keyboard faithfully responds to the player's touch to provide a feel close to that of a grand piano.
– A full lineup of colors ensures that your piano will match your interior design.
The flagship Clavinova CLP in a gorgeous grand piano cabinet gives you the ultimate grand piano experience.
The finest GrandTouch keyboard and sound system combine to give you the ultimate grand piano experience.
The new generation GrandTouch keyboard and finely-tuned 3-way speakers bring you the touch and feel of a real grand piano.
Powerful sound and a superb wooden keyboard offer unprecedented levels of versatility to pianists of all abilities.
Choose from two, world-renowned concert grand pianos. Enjoy playing along with a variety of rhythms.
– Intuitive, complete operation through Smart Pianist, a dedicated app for smart devices.
– Use Smart Pianist to immediately and effortlessly create piano accompaniment scores for your favorite tunes.
– Descending Stream Lights show which keys to play next.
– Equipped with an abundance of voices characterized by realistic details peculiar to each instrument.
– With Automatic Accompaniment, enjoy backing and ensemble performances full of ambience.
– Plug in a microphone to add vocals or augment your karaoke experience with harmony.
With all of the CVP-809 features in a sumptuous grand piano-style cabinet, the CVP-809GP adds a touch of splendor to any room.
Give your inner musician more Voices, more Styles and wireless iPad connectivity for countless hours of digital piano entertainment.

CVP-709GP
How could Yamaha improve the design of the ultimate Clavinova CVP-709 digital piano? Put it in a polished ebony grand piano cabinet.